Anniversaries are special occasions that mark the passage of time in a loving relationship. Each year is associated with unique symbols, traditional gifts, and even flowers. So, in this article, we focus on the 55th wedding anniversary, a remarkable milestone in any couple's life.
What Flowers Represent the 55th Wedding Anniversary
The Calla Lily flower is a beautiful symbol for the 55th wedding anniversary. These flowers symbolize fidelity, purity, and holiness. In addition, their origin is rooted in ancient Greek culture, so they will represent magnificent beauty. So they are suitable to represent beautiful love that lasts 55 years
Therefore, on your 55th anniversary, giving your lover a Calla Lily is a great idea. It shows your love and belief in your relationship's growth. It means you want your bond to stay pure, faithful, and elegant as time goes on.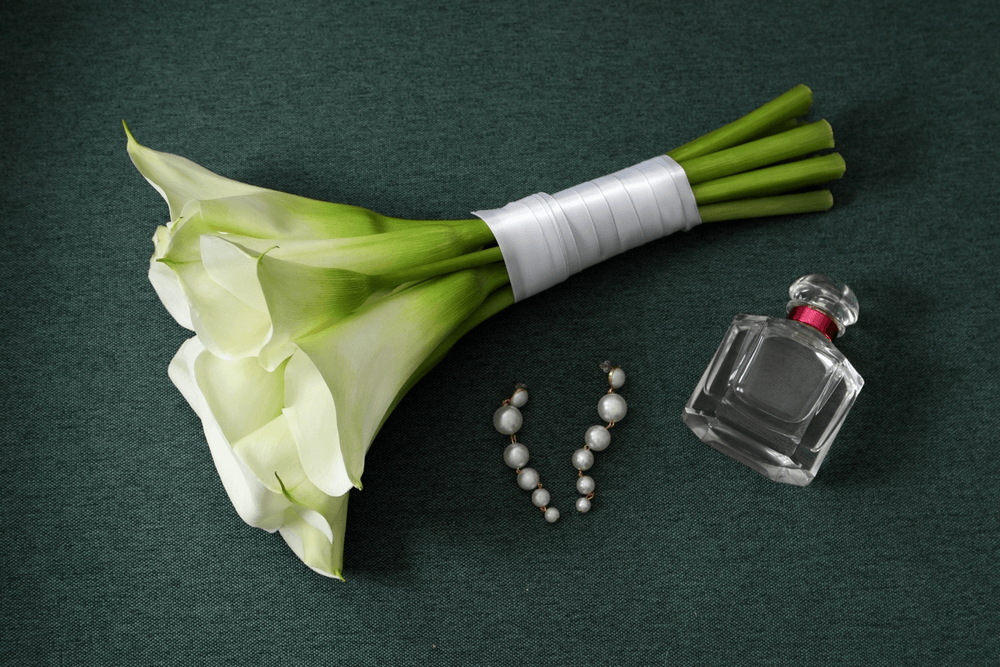 Other Flower Options
For 55 years of marriage, you can also give another lovely flower, each bringing its own symbolism and charm. Here we suggest some options to help you choose:
Roses: A symbol of love and passion, roses are always a good choice. Especially, red roses embody deep love and respect in a 55-year-long relationship. When choosing, you can combine roses with Cala Lilies creating unique and romantic.
Orchids: Known for their beauty, orchids signify love and hope. You can buy a bouquet of lilies and orchids that would beautifully, express a strong, devoted love.
Daisies: These simple yet charming flowers symbolize innocence and loyal love, perfectly expressing a bond that's grown over time.
Peonies: These blooms represent romance and prosperity and are often bought to celebrate a happy marriage. You can combine them with the beautiful look of Calla Lilies, creating a luxurious and romantic bouquet to give.
55th Wedding Anniversary Gift
The world of anniversary gifts is wide and diverse, So, we provide you with numerous options to choose from:
Emerald
The 55th wedding anniversary is usually celebrated with emeralds, which are special stones that are famous for their bright green color, symbolizing life and love in a marriage that's still strong after all these years
Thus, this makes emeralds a great gift for a couple who have been married for 55 years. You could give an emerald ring, necklace, or earrings as a gift. These could be very thoughtful and beautiful presents.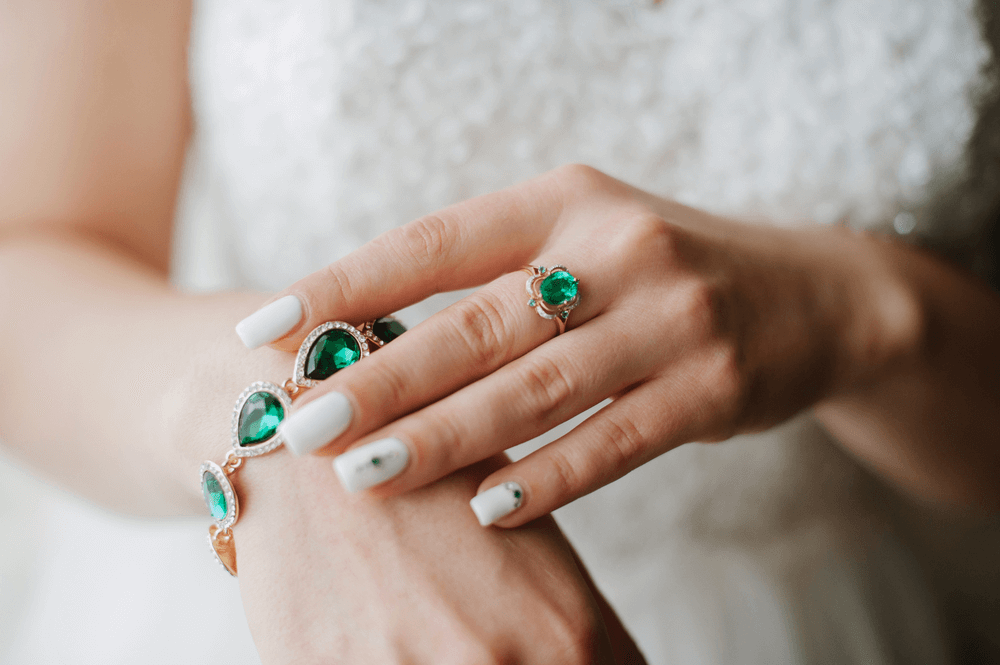 Vintage Wine
If you can find it, a bottle of wine from the year of their marriage would be a unique and special gift. This can be enjoyed as part of the anniversary celebrations. You could prepare a delicious meal, set the table with candles and flowers, and enjoy it with a bottle of wine you've purchased.
Personalized items
To celebrate 55 years of marriage, the couple can design items with the couple's names or the date of their wedding on their own. Keepsakes made of glass or crystal are also popular choices.
Some Ideas To Celebrate 55th Years Of Marriage
Whether you prefer intimate celebrations or grand events, there are many ways to commemorate your 55th anniversary. Here we provide you with some ideas to celebrate:
Cooking together
Cooking together can be an intimate, fun, and satisfying experience. Why not cook your favorite meals together? Better yet, prepare a dish that includes ingredients that are emerald green or orchid purple.
Create a memory book
Gather photos, and stories from your 55 years together and compile them into a memory book. This will express your love and devotion. Moreover, shared the journey you've taken together.
Anniversary trip
There's nothing like a romantic holiday to celebrate 55 years of marriage. This could be a trip to a place the couple has always wanted to visit, or a return to where they spent their honeymoon.
Family gatherings
For many, the best way to celebrate a 55th anniversary is a gathering with family and friends. This special time is a chance for you to share your joy and express the many wonderful years you and your lover have spent together.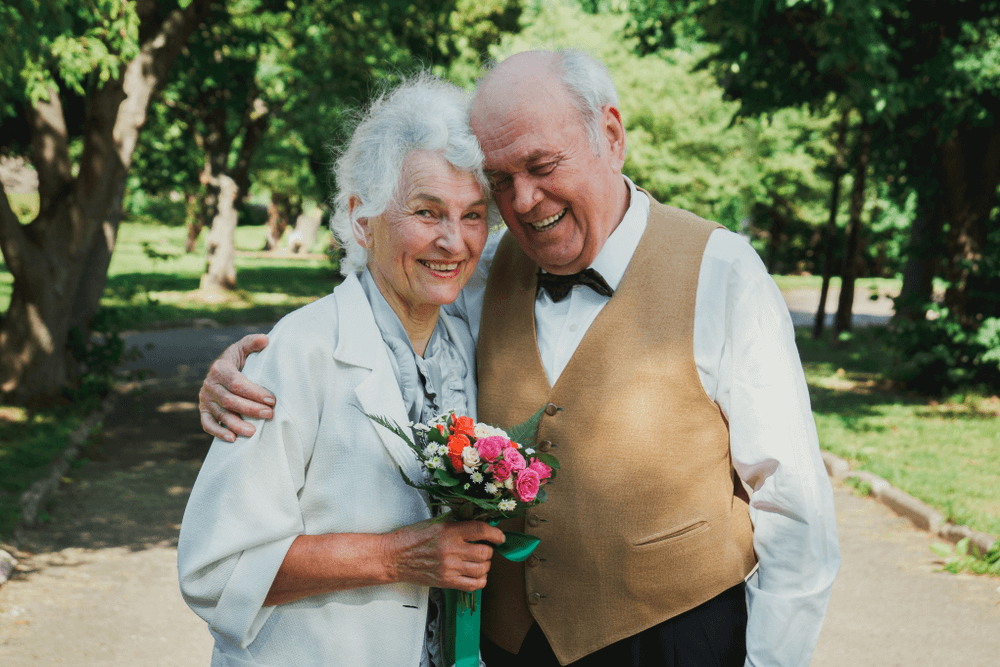 Conclusions
The Calla Lily, renowned for its representation of love, purity, and sanctity, is an excellent choice for 55 years of marriage. Incorporating this stunning flower into your wedding anniversary will add meaningful beauty. Additionally, you could combine this with a family gathering or a shared cooking experience, and more to celebrate this milestone. It's a moment to cherish and honor the enduring love you share.
FAQs
What does it mean to celebrate a 55-year anniversary?

Marking 55 years of marriage is represented by the emerald, a deep green gemstone that embodies eternal dedication and devotion. This significant milestone, known as the emerald anniversary, is a testament to the enduring bond between the couple.

What type of flowers are most suitable for a wedding anniversary?

While red roses, symbolic of eternal love and devotion, are commonly associated with Valentine's Day, they also make an excellent choice for wedding anniversaries. Their vibrant red signifies enduring affection and dedication.

What is the customary gift for a 55th wedding anniversary?

The emerald, renowned for its stunning green color, is the traditional gift for 55 years of marriage. This magnificent gem not only symbolizes unwavering love and commitment but also denotes rebirth and good fortune, implying that a couple can gain great things through learning and growing together.